Our mission
We are on a mission to revolutionize the packaging industry by making single-use a thing of the past.
Cirqle is a circular economy initiative, and our entire business model is guided by its principles. Specifically, we focus on eliminating waste and pollution by circulating products and materials. We work with partners to replace single-use packaging with reusable alternatives because we believe it's better to use the same packaging over and over again, rather than wasting material after a single-use.
By reusing packaging, we stretch its lifetime, dispose of less and thereby limit the strain on the planet. 
We are committed to continuously use innovation and creative thinking to minimise our own and our partners' footprint. For us there is no contradiction between sustainability and good business. We constantly work to transform our business, our industry and society. Here you can read about all the things we are working on and the journey we have ahead of us to continuously improve. 
The environmental impact of reusable packaging decreases with every reuse loop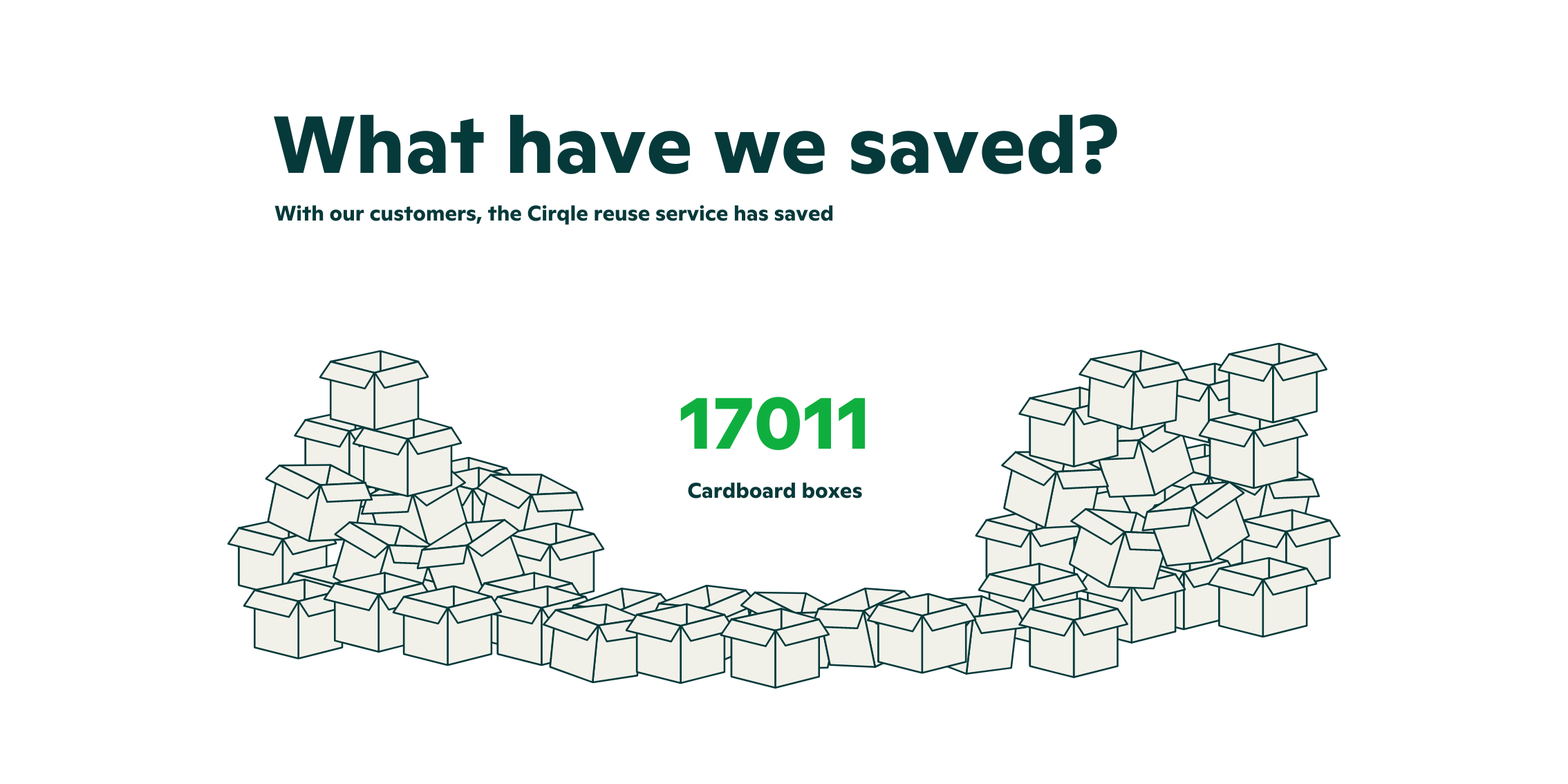 Packaging Materials and Design
We strive for packaging that is:
1) Designed to be reused over and over again and can be used, washed and handled as many times as possible.
2) Repairable if part of the packaging breaks. Therefore, it must be easily disassembled to replace broken parts.
3) Optimized for efficient return by being modular and nestable.
4) Fully recyclable info itself at the end of its life, meaning that we do not need to use new materials to produce replacement packaging.
Besides these guiding design principles several things must be considered when looking for packaging that achieves the best systemic outcome. When considering the entire system in which the packaging will participate, most solutions come with pros and cons, and there will inevitably be trade-offs. Therefore, we always consider a number of factors when it comes to packaging material:
> Emissions from production
> Opportunity to use recycled or renewable materials over virgin finite resources
> Security in responsible sourcing of materials
> Material performance for its given objective while in use (e.g. insulation properties if cooled food)
> Resource demand while in use
> Availability of after-use infrastructure (e.g. for recycling)
> Associated process losses for given material after-use (e.g. in recycling)
We are constantly working on various R&D projects to bring down the use of energy, chemicals and water with our washing partners. Our overall guiding principle is to guarantee the given hygiene and sanitation standards with the minimum amount of resources used.
We consider factors such as: 
> Energy source and energy efficiency at washing facility, aiming for facilities powered by renewable energy 
> Water use and efficiency, aiming for minimal water input e.g., by use of wastewater and cold wash where possible
> Use of bio-based detergent and avoidance of harmful chemicals
We work with various partners to minimise the impact of delivery and return in both line-haul and last mile transportation. We consider factors such as:
> Mode of transportation, favoring bikes and electric vehicles whenever possible
> Optimization of logistic routes and truck load to ensure the shortest possible route e.g., by tapping into spare capacity with logistic providers to use transport that is already occurring
>Optimization of warehousing and minimal transport packaging waste (such as pallet wrap, pallets) 
Circular economy is at our core – it comes above all else
We are open and involving – we seek to use partnerships to reach our goal
We are facts and science based
We are innovative and we strive to push boundaries
We believe that doing good is good business